Independent Reviewer for Archaeolibrarian - I Dig Good Books!
And Readers Isle - Escaping Reality In Fiction
I received a copy of this book for an honest review.
Monique has her life all together. She has a house, the corporate job with opportunities for advancement, great friends, and any man she could want, except for the one she really wants. She has the looks any woman would kill for and any man would chase after. Unfortunately, the man she wants to chase after her doesn't seem to reciprocate those feelings, or does he? Does Monique really want to find the one, settle down, and have a family? She has spent much of her life playing the single game and having fun with the different suitors. It's time to see just what pining after Jerome could offer her if only he would give her the time of day.
Jerome is a quiet, reserved, incredibly handsome and smart corporate executive, or is there more to him than meets the eye? His number one rule is to not become involved at work. He must go to work and earn a paycheck and then come home, no baggage, rumors, or drama. Simple, until Monique catches Jerome's eye and makes him second guess his single simple rule. Should he risk everything to show his true feelings for Monique and does he risk whether or not she feels the same way? No work was going to get done until he could get his mind and eyes off her all day. Could he possibly give into his heart, just this once?
Jerome grasped my attention from the first mention of him. He was led to be quiet, reserved, and all business. However, once those layers to Jerome are peeled back one by one, it displays a completely different side of him. He is strong, loving, emotional, gracious, giving, responsible, feisty, demanding, and incredibly charming. He has a lifelong dream and doesn't want to do anything that would alter his path to that dream, but can he take a short detour in the name of love?
This book definitely kept my attention from the beginning to the end. I didn't want to put it down until I found out if it were possible for Jerome and Monique to work things out with one another. One of the last scenes in the book, specifically the one at the restaurant, was my favorite. The way things were happening, conversations were being had, and emotions were flowing, made me feel like I could insert myself into this story and be having the same conversation. It involved every day topics that we all eventually end up having. I felt, after being married for ten years, that the advice that Monique received was perfect and truthful.
My one complaint was Monique's and Jerome's story seems to progress a little fast for my liking to feel realistic. I found that to be a little "unbelievable" in real life. It is possible to happen as fast as it did, but not extremely likely. It's possible the timetable was longer than it portrayed also, but there is no definite time frame referenced to know for sure. Had that party been a little more believable to me, this definitely could have been a five star rating.
If you're looking for a sweet romance, with some incredibly steamy love scenes, then I would recommend this book to you.
Genres: Contemporary, Chick Lit, Humor
Warnings: Sexually Explicit Content
Ages: 18+
Series: None
Rating: 4/5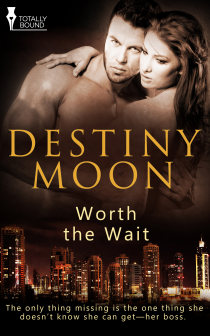 Here are the links!
*
This book contains characters who appear in All I Ever Wanted, also by Destiny Moon.*
Thanks & Happy Reading!
=D
**Review By Amy, posted by Dany!