Independent Reviewer for Archaeolibrarian - I Dig Good Books!
And Readers Isle- Escaping Reality in Fiction
I received this book from Totally Bound Book Publishing in return for a fair and honest review.
Jaden is a wealthy, spoiled, daughter of a well known gentleman who headed up archaeological digs. He was quite successful in his work and it provided a nice allowance for Jaden to use as she pleased. She preferred to spend as much of her time dancing at the rubs, drinking outlawed alcohol, and spending as much with the boys as she could get away with. Suddenly her pops' dream was taking too much money from her fortune left to her upon the death of her father. This resulted in an unwanted trip to North Africa, specifically Egypt. Will this excursion change Jaden's mindset about the digs her father so passionately enjoyed and the history of the people who lived those lives that were now being uncovered? Would there be anyone she encounters that could make Jaden want to change the way she lives her life? Would Jaden ever be able to give her heart away again?
Jaden's lifestyle of drinking a little too much might have gotten the better of her. Where had she gone? Where was the dig? Where had the camp gone? Who was this Omari Elydian Amun? Her bossy and feisty personality isn't getting her back to her camp and dig that she was so eager to shut down. How would she make it back to camp? Could she get back to Dr. Harper to relay vital information or was it just too late?
Omari Elydian Amun was an incredibly large, well built man, but so was everyone in his camp. The area that they lived was described in such great detail it made me feel that I could walk out my door and be there. The Oasis of Eden was probably the best described place and made me want to pack up my things and make a journey there and it was probably my favorite part of the book. This was Elydian's home, what a home to have! Elydian is a man of honor and a man of power. I loved the character he played out to be and how his soft side unfolded.
I enjoyed reading this book but felt it was a particular slow book for a good portion of the first half of the book. There were parts I really wanted to love and wanted it to grab me and keep me turning the page, but that didn't really happen until the second half. The second half had much more emotion, action, and the detail was written a little better. Also the words flowed easier during this time.
Jaden and Elydian are destined to meet and interact but will Jayden be strong enough to allow herself to give up control? Can she get over her spoiled girl ways and work to keep a society safe and running? Pick up a copy of Oasis of Eden and find out.
Genres: Science Fiction, Historical, Time Travel
Warnings: Contains Sexually Explicit Content
Ages: 18+
Series: None
Rating: 3/5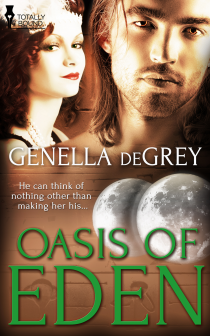 Early Download - 13 Mar 2015
General Release - 10 Apr 2015
Here are the links!
Thanks & Happy Reading!
=D
**Review by Amy, posted by Dany!